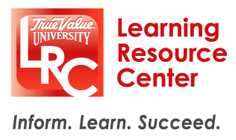 Project Assets: Marketing Campaign, Messaging, Copywriting, Logo Design, Tagline, Poster, User Guide, Photo Retouching, Calendar, Brand Guidelines
Project Brief
When True Value Company needed help with developing a new campaign for their Learning Resource Center (LRC), they hired Twirl. The LRC is an e-learning tool that provides members of the hardware co-op – as well as store-level staff – training and industry knowledge to develop a competitive advantage over rivals and help everyone stay on top of their game. Past internal efforts in trying to build this program into an attractive, viable alternative weren't gaining any traction with members. The challenge was to bring new life to True Value's Learning Resource Center and present it as a valuable, indispensable, educational tool essential to the success of the co-op.
The goal of the campaign was two-fold: first, create awareness about all the new changes to LRC's Web site, especially its ease of use; and second, to
re-engage interest and impress upon members their concerns are being addressed. Twirl's strategy was to position the LRC as the user's best friend – a trusted advisor who is always nearby when assistance is needed. To accomplish this, Twirl created a dog mascot named BART (Be Aggressive Retail Training) as well as the tagline "Inform. Learn. Succeed." to attract attention to the program, help with delivering key messages and position the LRC as a learning tool with long-term career benefits.
"Our partnership with Twirl Advertising and Design was essential to the successful relaunch of our Learning Management System. From the initial concept stage through the development of our new logo and the event relaunch of our new brand, they demonstrated their ability to understand our needs and work within our limited resources. The end result was very successful."
Maureen Feck, Meeting Services Manager, True Value Company