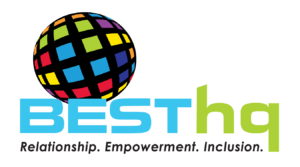 Project Assets: Logo Refinement, Messaging, Consulting, Marketing Collateral, Signage, Brand Standards, and Website UI/UX Design
Project Brief:
Owner Ron White knew he had a great idea but needed some help with getting all the pieces to come together. So he approached Twirl to assist him with developing his branding & marketing materials for his business BESThq, a collaborative business community and executive development center.
Twirl met with Ron to learn about BESThq's business model, goals and objectives to grow his business. We reviewed all of BESThq's current brand building efforts comprising of their logo, some flyers and website to determine their strengths and weaknesses. Armed with these valuable insights, Twirl began their work by refining their logo for better readability and scalability. These minor changes immediately helped increase visibility.
We suggested identifying specific colors drawn from BESThq's logo to be used strategically per program across various marketing materials. We introduced a neutral grey to act as a bridge to bring balance to the design. Postcards, rack cards, trade show banners, and various templates were completed and shared with the BESThq team to use for future efforts.
Twirl provided website consulting services as well and helped with honing in on their messaging consisting of three key elements: relationship, empowerment, and inclusion. Ron partnered again with Twirl to develop marketing materials for BESThq's Business Expo West Annual Trade Show Event.
"The Twirl team of Jennie Rodriguez and Victor Echevarria has been nothing short of a godsend for our growing business, BESThq. It became very clear early on that, as small business owners, we were not marketing professionals. Jennie and Victor have worked hard to ensure that our image and messaging stayed consistent through the years and their dedication to the quality of their work, as well as their knowledge of the latest marketing strategies is obvious. Our major event, Business Expo West, would not be what it is today without the professionalism and design savvy of this team. Thank you, Jennie and Vic, for twirling your way into our lives and allowing us to rest easy knowing that our design team has our back!"
– Ron and Jill White, BESThq/Business Expo West